Transfer the Azena OS capable camera to other companies. Claimed cameras can be transferred to another company through the "Transfer Camera" function in the Device Management Portal (DMP).
The following information has to be checked before for seamless camera transfer:
You have an account with camera management permission in our DMP
Your user must have the Purchase apps permission enabled
The camera must be claimed to our DMP
Company ID of the receiver company is known
Camera being transferred must not have subscription based applications installed
Checking your company ID
Please log into your account, and click on the Company tab on the left side of the page: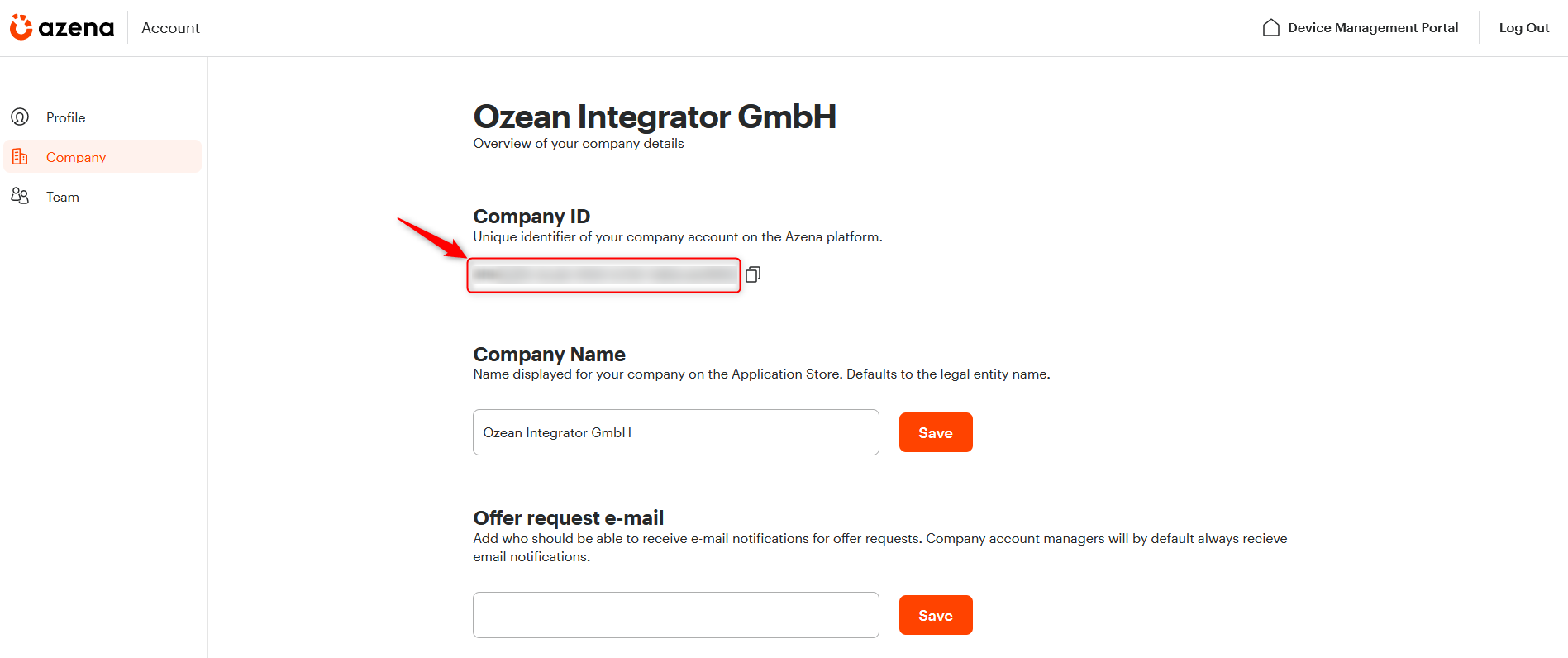 Company ID is an unique identifier of your company account on the Azena platform, and only can be checked with accounts belongs to the company. It is a combination of 32 lowercase letters and numbers. Therefore, when transferring cameras between companies, request the company ID from your counterpart before transferring the camera.
Transferring the camera
The camera can be transferred through Azena DMP.
You can transfer the camera by following the steps below:
Sign in to your account and go to DMP. From the list of claimed cameras click the three-dots menu of the camera you would like to transfer and click transfer camera.




The number of cameras and apps you transfer will be displayed at the top of the pop-up window. Please fill in the company ID of the receiver. If entered company ID is valid, corresponding Company legal name and the Country will be displayed for confirmation. Reference can be filled out to help the receiver to identify the transfer. The Click NEXT.




A pop-up window will be displayed to reconfirm what you entered before the camera transfer. Click TRANSFER.




An information window will appear with a message. You can see that the camera has disappeared from the list.




At this stage the receiving company will have to log into DMP to accept the transferred camera. The following information window will be displayed at the top of the claimed camera list. Click Show Details.




A pop-up window containing transfer request information will be shown. Please check the details before accepting the request. If this transfer was expected please click ACCEPT, otherwise DECLINE.




An information window will appear with a message. You can see that the camera and the applications installed on the camera have been successfully transferred.




Transfer not possible
When transferring a camera, be sure to check that there is no subscription based application installed. It is not possible to transfer cameras with subscription based applications on them. If you try to transfer the camera, the following pop-up window will pop up.